On August 20, "Shenzhen Cup" Mathematical Modeling Challenge ended in SUSTech's Faculty Research Building 1. Over 240 students and teachers from famous universities such as Tsinghua University, Fudan University and Zhejiang University had heated discussions over the four questions of the contest through mathematical modeling. The four questions concern four topics: the superiority of two modes in improving water quality, namely intercepting sewage and rainwater vs. separating sewage from rainwater for recycling (A); the stability of the system of dedusting with bag filters in waste incineration plants (B); the effectiveness of the ban on motorcycles and restriction on electric bikes (C); and the construction of a model based on the risk assessment, trend prediction and intervention of metabolic syndrome (D). After the conscientious review of the judges, 24 teams stood out and won awards. To be specific, there are 4 First Prizes, 8 Second Prizes, 10 Third Prizes and 2 Tan Yongji Special Prizes. The First Prize winners are teams from Fudan University, Shandong University, Sichuan University and SUSTech respectively. And each team was awarded RMB 10,000.
The closing ceremony
SUSTech team (second to sixth to the left) is awarded the First Prize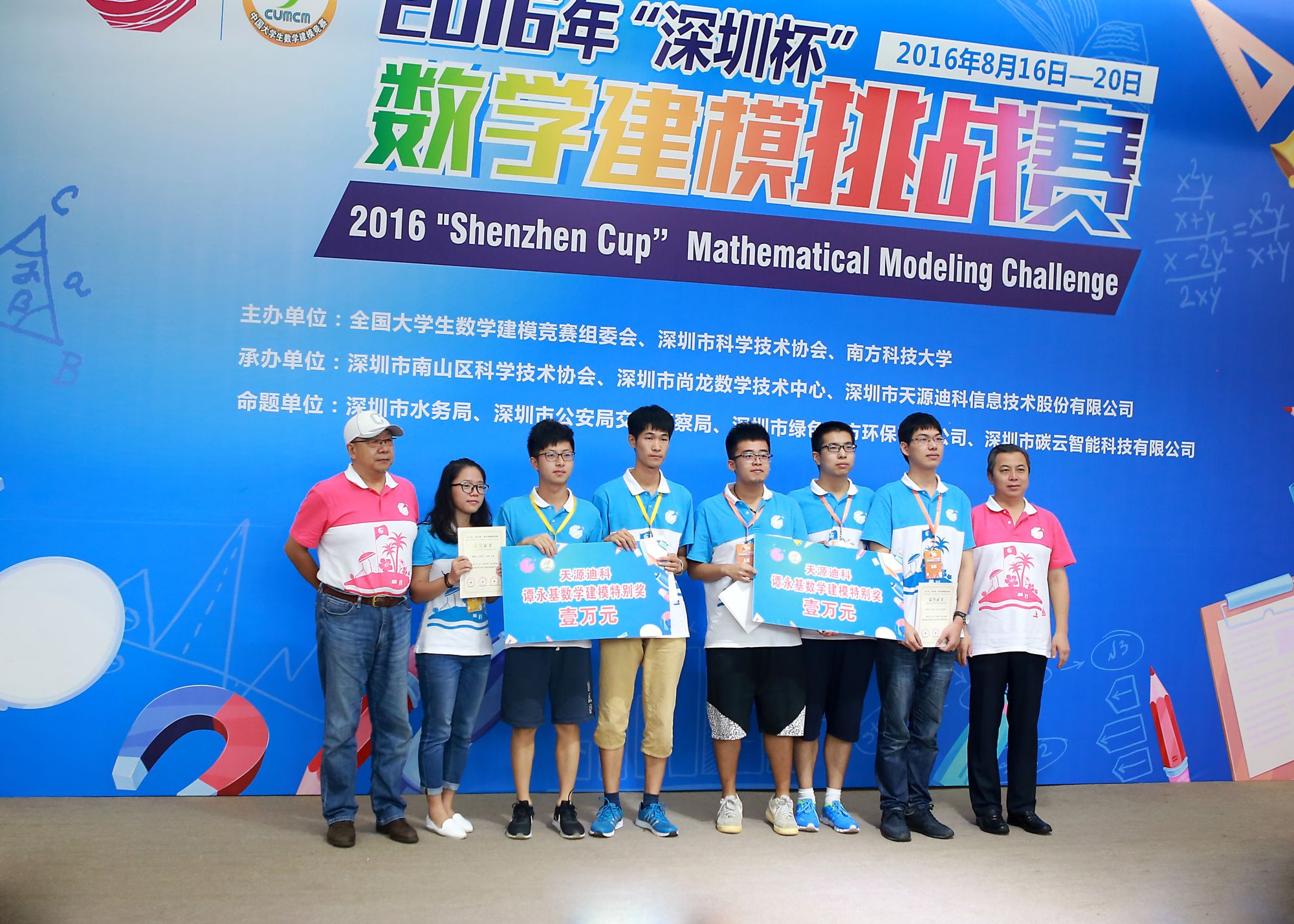 Two winning teams of Tan Yongji Special Prize
In order to honor and commemorate Tan Yongji, a renowned late applied mathematician, initiator of Shenzhen Cup Summer Camp of Mathematical Modeling and professor of Fudan University, 2016 "Shenzhen Cup" Mathematical Modeling Challenge set two Tan Yongji Special Prizes with a bonus of RMB 10,000 for each winning team. The two teams that won Tan Yongji Special Prizes were teams from Shandong University and Tianjin University.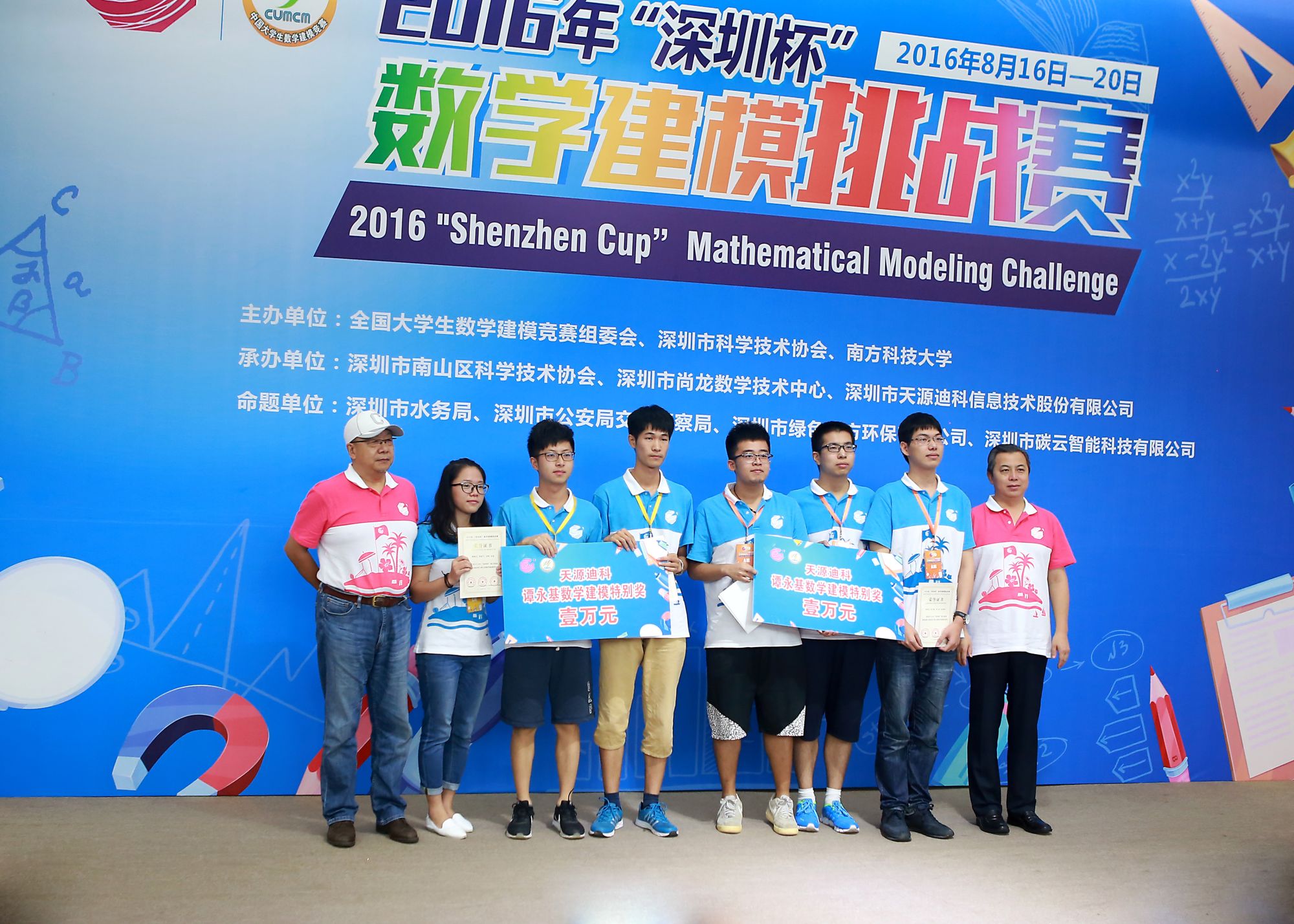 SUSTech student Li Yang delivers award-winning speech on behalf of SUSTech team
The four First Prizes were given to teams that performed best for each of the four questions. SUSTech team, comprised of Associate Professor Li Jingzhi and five SUSTech students Geng Mingmeng, Li Yang, Long Yongkang, Bi Huarui and Luo Jinwei, was awarded the First Prize for their outstanding performance for the fourth question. According to Li Yang, who majors in Mathematics, "While creating a mathematical model, we should put into consideration not only the process of modeling, but also the interpretability of the model." Long Yongkang, who majors in Bioinformatics, said: "I learned from the contest that it is important to think about a question from different perspectives. There were arguments among our team members in the process of modeling, but we tried to persuade each other. No matter the perspective is right or not, we would try to prove it."
This year witnesses the second success of the "Shenzhen Cup" Mathematical Modeling Challenge held by SUSTech. The contest has altogether been held for six times annually from 2011, and has brought about positive social impacts. With a good brand effect, the contest has become an important business card of Shenzhen, helping Shenzhen to attract talents and promote the image of the city.